Request for Quote
About Us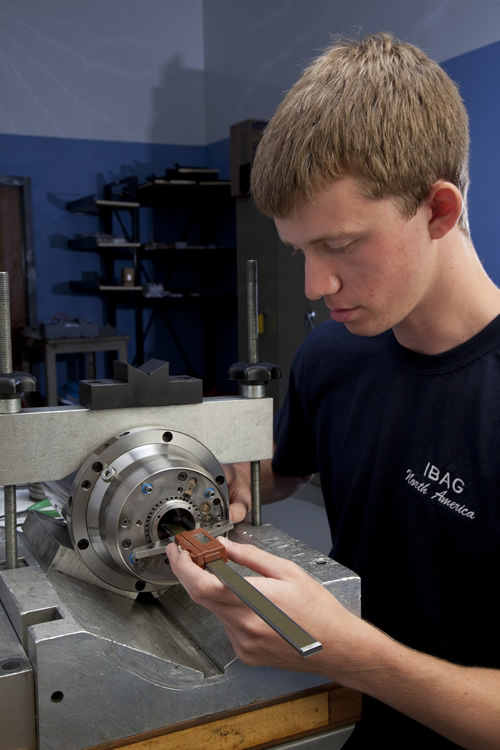 IBAG Switzerland, AG, was founded over 75 years ago near Zurich, Switzerland. As one of many Swiss companies supplying the Swiss watch industry for precision milling, drilling, and grinding, IBAG decided to specialize in larger, more powerful high speed milling spindle technology.
IBAG North America is headquartered in a modern plant in North Haven, Connecticut, an established New England community where traditional values of education and craftsmanship have become the foundation for a growing complex of commerce, industry, and high technology. For over 25 years, IBAG North America has supported the sales, service, applications, and rebuilding needs for the North American market.
IBAG's dedicated, 10,000 square foot facility includes sales, stock, applications engineering, as well as full spindle repair and rebuilding services. Spindles are run-in within an isolated test room with all data recorded to comply with ISO 9001 quality requirements and to insure reliable performance and customer satisfaction. Other IBAG facilities are located worldwide, including Germany, France, Taiwan, and China.
Whether you are retrofitting an IBAG spindle into an existing machine, or installing an IBAG high speed spindle into your new CNC, experience is vital to success. IBAG North America has the knowledge and experience to select the right spindle system, properly install it, and support your applications needs to insure increased profitability and a quick return on investment.
For over 20 years, IBAG North America has represented Witte Vacuum Work Holding Solutions in North America. Witte is a German manufacturer offering a full line of vacuum work holding equipment including vacuum pumps, chucks and accessories. IBAG North America will evaluate your unique part needs and recommend the right vacuum solution.
Contact us
today to see how IBAG North America can improve your bottom line with innovative high speed milling and vacuum work holding systems